Palmdale Dream Center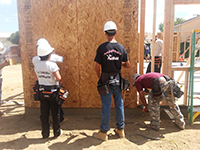 The 2014 opening of the Palmdale Dream Center resulted from collaborative efforts in providing stable and affordable housing for at risk young adults 18-24 years of age by the City of Palmdale, Advancing Communities Together (ACT), Antelope Valley Youthbuild and Paving the Way.
Since opening our doors, we have accepted young adults who may have been emancipated. Aged out of the foster care system, and/or lacked positive support systems, who in their efforts to thrive found it difficult to succeed in society. The current goal of Palmdale Dream Center Representatives is to deliver supportive services to these young adults while they seek success and productivity as the integrate into their community and the greater society. This transitional housing facility offers weekly and monthly activities and workshop opportunities while maintain a positive environment where these young adults can build the support systems and skills necessary for individual and societal growth.
Qualifying residents are:
18-24 years old
Homeless
Low Income
Willing to participate in supportive services
Where to Apply:
38518 5th Street East Palmdale CA, 93550
Office: (661)-266-8900
Voicemail: (661)-441-4771
Email: PalmdaleDreamCenter@gmail.com